This was one of the first things I made for my lovely girlfriend,
Lizzie
, and one of the first desserts I've ever made. She inspired me to create this blog, and helps me tremendously with advice and by being my personal taste guinea pig/photographer :D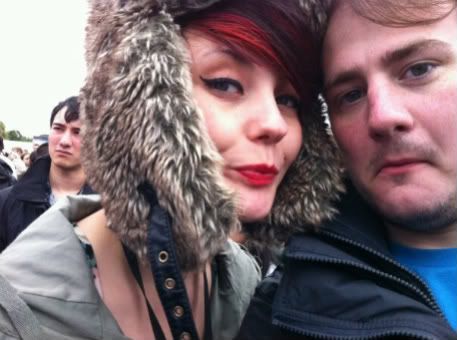 She was the one who requested I make an Eton mess, and I duly met the challenge with aplomb! Having never made one before, she told me how to go about it, and so really and truthfully this is her meal, not mine.
Eton messes are very simple, very tasty desserts that require essentially no cooking whatsoever. (Unless you want to bake your own meringues, which I did not). They're very tasty, and provide a wonderfully refreshing treat on a summer's evening, perhaps after a barbeque!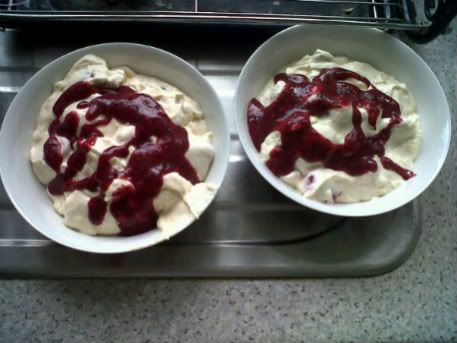 Ingredients:
2 meringue cases
300ml double cream
Packet each of strawberries, black currents and raspberries
1 tsp of lemon juice
About 3 tbsp worth of sugar
Method:
1. The first thing you want to do, is whip the cream. So pour this into a bowl and start whisking briskly, until the cream is thick in consistency and has about doubled in size.
2. Simply break apart the meringue cases into large chunks, and fold them gently into the cream mixture, along with half of the fruit.
3. To create the berry coulis, halve the strawberries, and put them, the black currents, the raspberries, the lemon juice and the sugar in a blender until a vibrant and aromatic sauce is created.
4. Using a sieve, separate the juice from the left over seeds etc., and finally place the cream mixture in a bowl to serve, and drizzle the coulis over the top to finish.
For a more 'mature' version, a tasty addition is a small amount of port or even a berry flavoured liqueur such as Chambourd for added kick.
If you are interested in making your own meringues, then the
BBC Food site
has various recipes for you to peruse at leisure.
Hope you give this a go, and good luck! Let me know how it goes!
Thanks, Tom!